water vending machine description:
1). Waterproof carbon steel cabinets, the front door open design, safety and health, durable and easy installation
2). Advanced RO purification techniques, nine levels effective water treatment, the water quality accord with the national standards
3). Intelligent coin and induction IC card self-service techniques, billing accuracy of 0.01 Yuan
4). Airtight filling + High concentrations of ozone sterilization, eliminate the secondary pollution completely
5). 24-hour uninterrupted UV sterilization, guarantee the water quality
6). Filling room has the light, so the user can cheek any impurities in the water directly
7). Light box and light inspection can be controlled by the photosensitive save the electricity costs
8). The powerful pretreatment, also it can do the backwash for the filters to reduce the cost.
9). The water vending machine is packed in wooden box and the guarantee time is 2 years.

Technical Date:
Item

RO-300A

200GPD

400GPD

600GPD

800GPD

1000GP

1300GPD

3000GPD

Power

AC 220V 50Hz (or 110V/60Hz)

Power input

130W

170W

210W

220W

260W

300W

510W

Water Source

Municipal Tap Water

Production Water Capacity

200 Gallon

400 Gallon

600 Gallon

800 Gallon

1000 Gallon

1300Gallon

3000 Gallon

Recovery Rate

40~45%

Desalting Rate

98%

Raw Water Pressure

0.1~0.4MPa(1~4Kg)

RO Working Pressure

0.5~0.6MPa(5~6Kg)

Filling Speed

8L/ Minute

Filling Container

5 gallon or smaller bottle

Deduction Way

Deduct from total amount

Selling Way

Coin /note/IC card

Connection of Inlet Water

G1/2(4 cent inside thread)

Drainage Connection

G1/2(4 cent inside thread)

Dimension

80×68×1900(cm)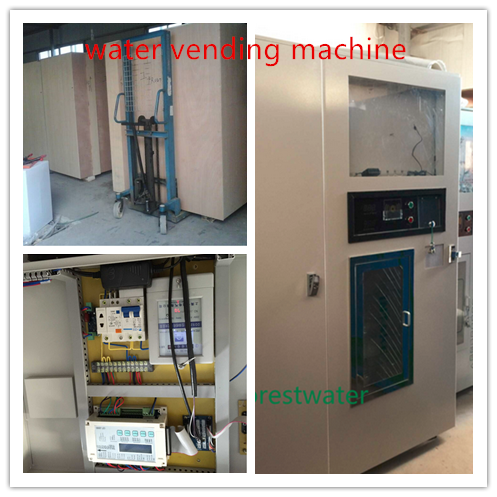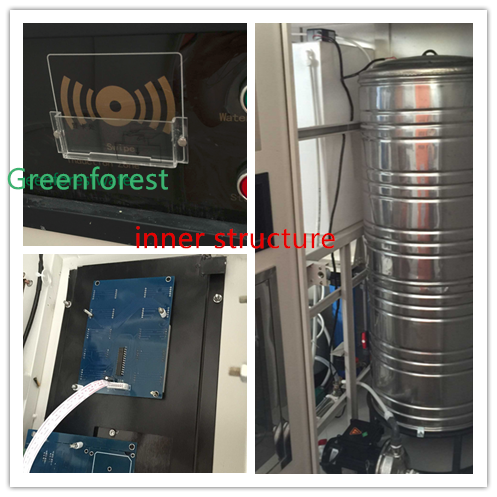 About the inner water tank, we can add the tank according to customers request.